There is a lot of work that goes into creating and setting up an online store. But what makes a successful eCommerce store successful? In this article, we highlight several best practices for online retailers to follow that will keep customers happy and improve sales in no time.
Good Customer Service
Firstly, it is important to have great customer service. There are a variety of contact methods that you can use for customer service, including telephone, chat, email, or a link to your live chat. Good customer service keeps customers happy; and a happy customer is a returning customer. Good customer service is also fantastic for the company's reputation.
Streamlined Tech
A good, well thought out website with no bugs or glitches is also a very important aspect for online retailers to consider. Keep your website up to date and simple to make products easier to find. Improve your website's loading speed to avoid losing customers up front and to keep customers engaged on your website. Provide a more personalised experience by knowing your target market and using cookies and other website tracking. A website is the first impression that a customer gets of your brand, so make sure that this impression counts.
Clean, minimalistic website design by Burnt Studios:

Inspire Trust
To inspire trust in your online store, it is recommended to include customer reviews, certified badges, a verified telephone number and physical address, as well as a good return policy. Customer reviews, certified badges and a verified telephone number let customers feel more comfortable with buying online from that specific merchant. A good return policy also lets customers feel confident as there is some form of money-back guarantee.
Trust badges done right by Cape Coffee Beans:

Great Customer Reviews on Africology's website:

Beautiful and Appealing Images
Take professional, clear photos on plain backgrounds of the products you are selling. As customers can now longer physically experience the products, it is vital to accurately depict the size, colours and details as much as possible. Blurry, distorted images can cause distrust and lose your customer.
Clean, professional images by SKIN functional: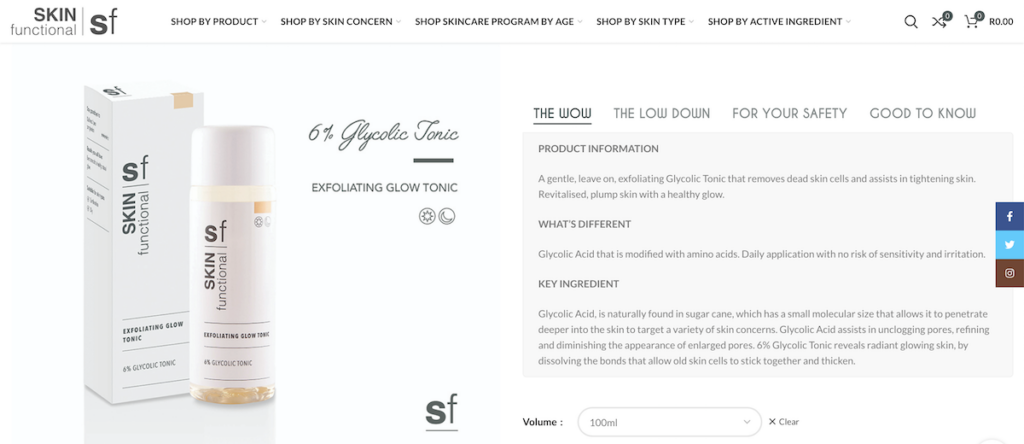 Use Remarketing
Use remarketing ads and emails to remind customers of the products that they may have looked at on your website, but did not purchase. Remarketing ads keep your brand top-of-mind while your customers are making the final purchasing decision.
Improve Communication
Keep your customers engaged and updated, not only on the products you have in stock, but also on the orders that you are shipping out. Once an order has been shipped, send tracking emails to your customers to allow them to view the shipping status throughout the delivery process.