Due to the COVID-19 pandemic that has rocked the world in 2020, the annual Shopify Unite event was cancelled, moved online and rebranded as Reunite. This allowed all Shopify Partners to join in on the fun and hear about the new and upcoming features on the Shopify platform, as well as hear the Shopify leadership team's insights about the future of commerce.
Below is a summary of the announcements that were made on 20 May 2020:
Shopify Capital
Based on your history with Shopify, you can apply for a small business loan from them directly. You avoid the lengthy application forms from banks/financial services and the funding can be in your account within a couple of days. You can also repay this loan through a percentage of your sales, with payments that flex to fit your business. Eligible merchants need to apply for the funding and must be approved before payment can be received. Currently, Shopify Capital is only available to merchants in the US or Canada.
New Express Theme
Shopify has released a new new theme for all merchants called "Express". It intended for shops that are used to in-person experiences (think restaurants) and have needed to go online very quickly. It is a one-page online store, is really quick to set up and provide all the most important and relevant information right there as soon as you go onto the online store. It is also centred around a mobile-experience.This makes it a lot easier to get online with less to configure, and is very easy to navigate for the end user.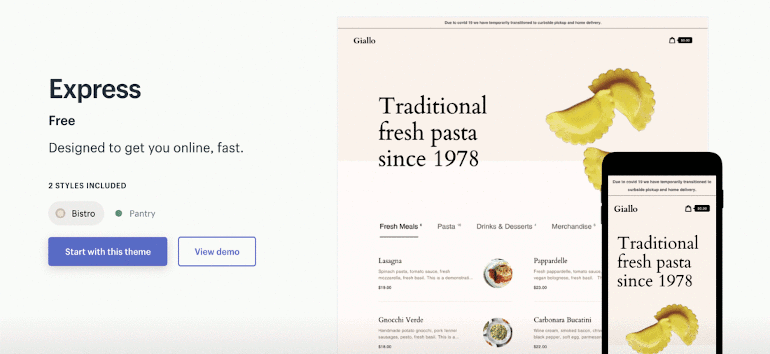 Other new features for online stores
Gift cards are now available across all Shopify plans. It's quick cash flow that you can get into your online store right now.
Help get money into the hands of your employees! Tipping is also now available at checkout. What this means is that your customers can choose to add a tip during the checkout process. This feature can also be configured in such a way that you can ask people to donate to a certain charity or if you would just like to ask for a bit more support towards your business.
Shopify Email
You can now send emails directly from your Shopify admin, eliminating other email marketing services. You can manage various campaigns, choose from various templates and send from your domain. This email setting pulls your store's logo, colours and "feel", ensuring that your emails match your store "vibe". You will also be able to track your emails and view reports on your emails' performance. This feature is completely free until 1 October 2020, after which you only pay for what you use.
Shopify PING
This is a new instant messaging system rolled out by Shopify. The app is already available on iOS and will become available on Android towards the end of the year. This system allows communication in real-time between customers and merchants (much like a business WhatsApp) – important for these COVID-19 times where business hours and delivery information is uncertain. It is designed to share products and discount codes and allows customers make purchases instantly.
Shop Channel
The brand new shopping assistant.
Shop is a new mobile space that serves spam-free recommendations, just for Shopify stores. This built-in feed makes it easy for customers to browse the latest and filter by location, all while prompting repeat business for you. It's completely free and offers faster checkout. Customers can track orders, access return policies, and find their receipts from inside Shop. Shop must be activated in you admin. It also has a very cool feature that shows you how many trees you save by using Shop Pay, as their deliveries are completely carbon neutral. Shopify Payments, and thus, Shop, is currently not available in South Africa. It will only be available in Canada and the US.
Shop Pay Installments
Along with Shop comes Shop Pay Installments, a Buy Now, Pay Later feature, allowing merchants to give their customers the option to split their payments into four equal installments, with no interest or additional fees. This could be very helpful for merchants selling larger value items and could prevent some customers from making these purchases on their credit cards, thus increasing their debts. At the same time, the merchants will still get paid the full amount "instantly", making this a risk-free endeavour for merchants. In 2020, Shop Pay Installments will only be available to US merchants.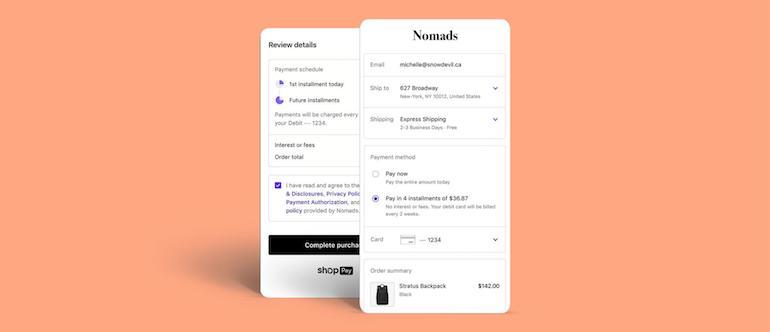 New backend features
The new backend features are in production and will be rolled out globally throughout the course of the rest of 2020.
Faster Product Creation
The basis of faster product creation means leaning on the camera (particularly on mobile) to create square product shots, something that is really important in a lot of Shopify themes. This saves you the time of re-edits.
You can upload and manage products in bulk.
Product States
You will also be able to work on your products in different states – draft, archived and published. This can also be done in bulk as well.
Changes will also be made to the Orders Page. The aim is to be able to directly from the order index, not only use it as an identification point, meaning you will not need to click through to the order details page for information.
Inventory Management
New changes with regards to inventory management is a first version of purchase orders. This means you can order from your supplier's track and then you can use your mobile to actually receive that inventory.
There are also new inventory reports that include cost, so that you can understand the amount, cost or value of inventory you have on hand. Also included is a new report around gift cards so that you can see the value of that.
Returns
A new workflow will be released later this year which will allow you handle returns end-to-end in Shopify. This includes processing the return label, send out branded buyer notifications, manage the receiving of that inventory and the re-tracking of that in your inventory as it comes back in. This workflow intends to help merchants improve their customer experience around returns.
Shipping, Delivery and Fulfilment Features
Curbside Pickup:
For any store that has less than 20 locations, you can enable curbside pickups. You can add your own instructions, customers will be able to tell you when they would like to schedule their pickup and they will be able to tell you when they've arrived for pickup. This is found under "Shipping" settings. This is available for all eligible stores globally. Check here to see if you are eligible.
Local Deliveries:
You or your staff can go out within a specified vicinity and deliver yourself. You can set this up in your "Shipping" settings and decide what your delivery radius is going to look like. Customers who are eligible for this option will see it at checkout and can leave delivery notes for the delivery person. There is an app for this where you can, from your order index page, find all of the local deliveries you need to make and map out your delivery route. It also allows you to let your customers know that you are on your way. This feature is in beta and may not be available for all stores.
Shopify Fulfilment Network
This has been in the works for the last 11 months and is still in process. Shopify acquired a company that will help with the technological advancements needed to make this fulfilment network a reality. This includes the development of collaborative robots, designed to speed up the picking and packing processes in warehouses. This AI-powered fulfilment network is now actively accepting merchant applications. This is only available for merchants selling in the US.
Shopify Performance Improvements
Rebuilding of the online store engine
This concept, in short, takes all of your themes and then spits out the online store.
This has been deployed with several Shopify Plus merchants and has shown a 50% to 100% improvement on load times for online stores.
This rebuilding is still in the testing and deployment stage and will be rolled out over the course of the next few months. This will also happen automatically.
Online store performance dashboard
This dashboard shows up in your Shopify admin and allows you, as a shop owner, see how is your shop doing over time – performance-wise. One of the big advantages at Shopify is access to web performance tools where you can see how fast your store is, but there are none that tells you how your store is doing over time. This dashboard will show you your performance over time. You will also be able to see a full history of anything that you've done to your online shop that may have had a significant impact to your performance. This provides really good visibility into your store's performance in terms of speed. The new dashboard will be available for all Shopify merchants within the next few weeks.
BIG ANNOUNCEMENT: Shopify Balance
Shopify Balance is a merchant account with no fees and no minimum balances which will be launched in the US later this year. It consists of an account, a card and rewards, and merchants will be able to see cash flow, pay bills, and track expenses in Shopify admin. The Shopify Balance card can be a physical card or a virtual card and will be branded with your company's branding. Merchants can use it to access their money by spending in-store, online, or via mobile. They will also be able to withdraw from ATMs. As for rewards, Shopify plans to offer merchants "cashback and discounts on everyday business spending like shipping and marketing."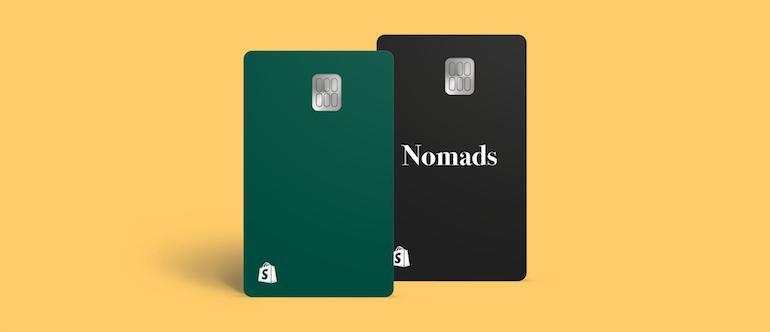 All informatiom for this blog post was obtained from watching Shopify Reunite live on 20 May 2020 and from the full round-up of announcements published on the Shopify Partner blog.
All images used on this blog post are supplied by and the property of Shopify.