How to use your address book
How to use your address book
Use your address book to keep track of your customer's contact details and better control your collection addresses, allowing you to fulfill your shipments quicker and manage your customers better. When creating shipments or orders, you can also add addresses directly from the address book.
To create an address, navigate to address book in the left navigation panel. In the panel on the right, you can add your addresses and use the toggle function to mark the address as a collection address. Once an address is saved, it is saved in the 'book' in the middle panel. The layout of the address book allows merchants to add new addresses, toggle to show only the collection addresses and search for addresses using the search bar.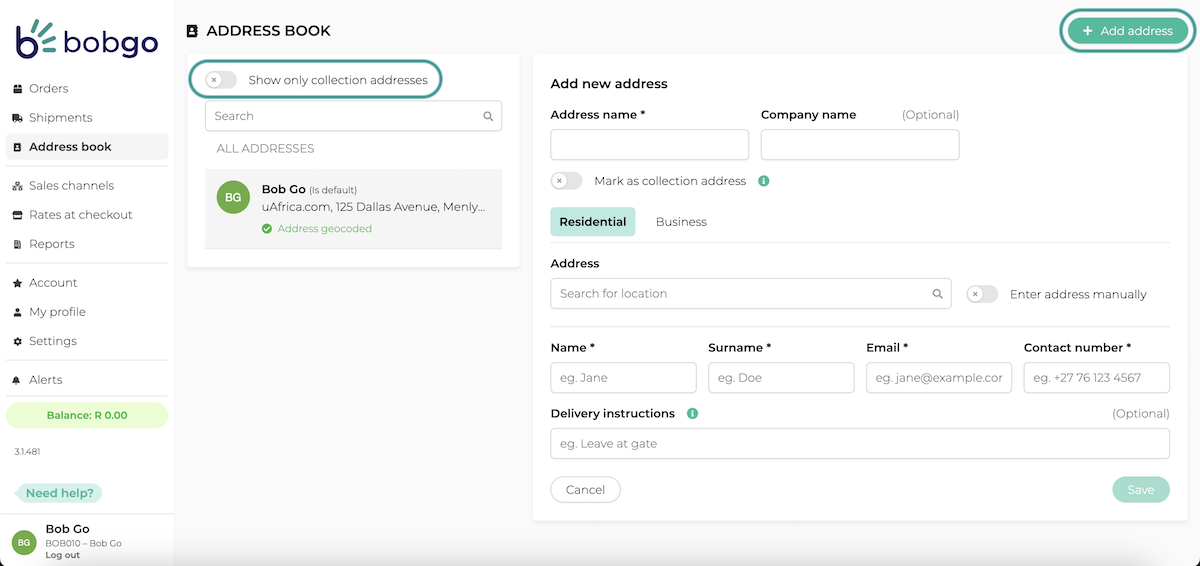 Collection addresses:
When you add a new address, you have the option to tag it as a collection address. If you do so, you can add the advanced setting information as required for all collection addresses, including an address-specific collection note and logo. A collection address can also be marked as "default", which is the address the system will always revert to. You must have one default collection address in order to complete shipments.


Delivery addresses:
As orders are placed on your online store, your customer's contact details will also pull through to the address book and create and save as a new address. You can manually add new contacts and addresses or search for existing ones with the quick search field. By keeping all of your addresses and contacts in one place, shipments and orders have never been easier to manage.