Dropshipping is a retail fulfillment method where a store doesn't keep the products it sells in stock. Instead, when a store sells a product using the dropshipping model, it purchases the item from a third party and has it shipped directly to the customer.

– Shopify
Dropshipping is not a new concept, but it is one known for being very tough to master. More entrepreneurs are looking at this business model for their companies because it eliminates a lot of pricey running costs.
We at uAfrica work closely with many successful dropshippers in South Africa and we get daily queries on how uAfrica can be used in conjunction with the dropshipping model.
In this blog post we explain how you can use uAfrica's tools and features for your dropshipping business:
Multiple Suppliers with Multiple Addresses
Dropshippers often have multiple suppliers stationed in various locations, which makes shipping a pain. However, if you are on a paid plan with uAfrica, you can add unlimited sender addresses (the address from which your product will be shipped from). When you then fulfill orders, you simply specify from which sender address the parcel must be picked up from. 
There are two models that you can work with:
If the customer's order contains products from three different businesses, these orders can be shipped separately and directly to your customer. This means that there will be three shipments and the customer will receive three separate parcels.

If the customer's order contains products from three different businesses, but you would like to consolidate these products so that your customer only receives one parcel, you will need to do three shipments from your three different suppliers to you, and then a fourth shipment from you to your customer. This means that there will be four shipments in total, but the customer will only receive one parcel.
Warehousing and Storage
Many dropshippers prefer for their customers to receive one consolidated parcel with all the products from the various suppliers, as opposed to their customer receiving many parcels from the many suppliers seperately. Unfortunately for the dropshipper, this will mean that you will need to either operate out of your home or have access to some kind of storage solution to help with warehousing an dispatch.
uAfrica does not have any warehouses for dropshippers to use, but we can refer you to our friends in the industry who can help you with this. Dropshippers will then ship products from their supplier to the warehousing solution, repackage the orders and ship the parcel straight to the customer from there.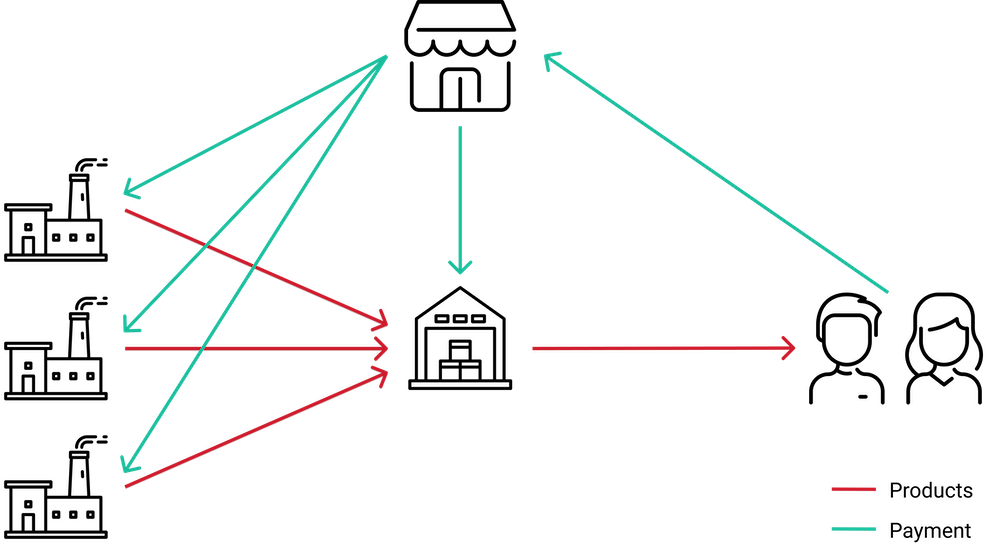 Products for dropshipping
We at uAfrica work with an amazing company called Dropstore. Dropstore is a dropshipping marketplace that makes it easy for you to find awesome products from South African suppliers to sell on your online store.
If you are looking for products to sell on your online store, they are the guys to talk to.
Shipping into South Africa
uAfrica does not ship interantionally and only operates and ships within the South African borders. Many dropshippers get their products from overseas, but unfortunately, another courier company will need to assist you in getting from products into South Africa. Once your products are in South Africa, uAfrica can step in and help you in getting your products to your customers.
Dropshipping is not an easy model to follow in the South Africa market. Although there are many successful dropshippers, it is tough to master. There is a common misconception that dropshipping is a cost-saving business model, but the reality is that the money you save on storage and warehousing often gets spent on increased shipping costs.
It is, thus, super important to have the right partners in place. Good luck!