There are many factors to be considered when choosing a smart shipping and order management solution for your business. Whether it be cost-related or ease of use, this decision is vital to the success of your online store. However, research has shown that the majority of merchants find this criteria to be the most important:
Buyer's trust
Makes checkout easier
Works with merchants' existing systems
Isn't too expensive
Helps manage fraud
Has good customer service
In this blog post, we explore these six requirements and how Bob Go is ticking all of those boxes.
1. Buyer's trust
Building trust with buyers is a vital component to any business, but even more so in the ecommerce industry. Working with reputable solutions and service providers is a key factor to building that trust. Bob Go has been that trusted shipping solution to more than 2000 merchants since 2016. As a middleman between the merchant and the courier companies, buyers and merchants alike can rely on the Bob Go team to get parcels delivered on time and in one piece.
With our various integrations into ecommerce software and courier systems, we have also undergone strict approval processes and policies – so you can rest assured that Bob Go is going above and beyond to ensure that we are providing a trustworthy, reliable solution.
2. Makes checkout easier
Bob Go's rates at checkout feature makes checkout easier for your customers. Our platform enables merchants to set up shipping rates that will be charged to your customers at checkout, configured to your specific business needs. It enables you to provide your buyers with a variety of options – from fixed rates and free shipping to actual real-time courier rates. Rates at checkout has proven to offer greater transparency to buyers, reduce abandoned carts, decrease human error and increase sales conversions.
Find about more about rates at checkout here.
3. Works with merchants' existing systems
Regardless of what platform your online store is built, Bob Go has you covered. Our platform offers pre-built integrations for Shopify, WooCommerce or Magento. Additionally, an open API is available for custom integrations into Bob Go.
But an integration is not required for you to make use of our smart shipping and order management solution! You are also able to manually create orders on the platform, or import orders using an Excel or CSV file.
Check out our integration options here.
4. Isn't too expensive
Pricing is a significant factor in selecting a shipping solution. This is why Bob Go offers a variety of pricing plans to suit your business needs. There are four plans available for merchants making use of an integration, starting at R99 (excluding VAT) per month. A free plan is also available for merchants not making us of any integration.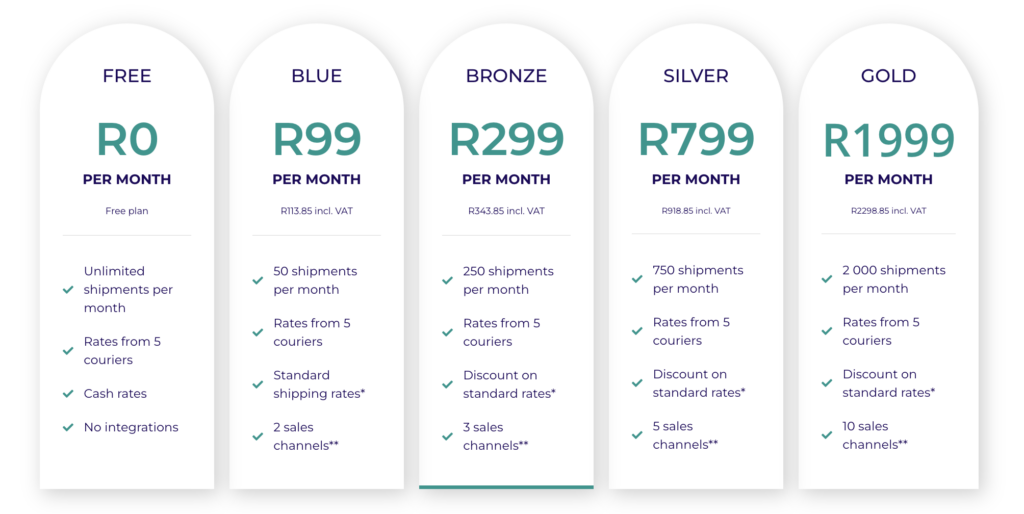 Additionally, shipping rates will be charged for each parcel that is being shipped. We negotiate these rates with our courier partners to offer our merchants the best value for money. Bob Go also offers a discount on these shipping rates on the Bronze, Silver and Gold plan. The better the plan, the more discount you receive!
Compare our pricing plans here.
5. Helps manage fraud
Fraud management is crucial in any ecommerce business. Address checking and geocoding are essential parts of our service offering. The Bob Go platform indicates if an order is paid/unpaid, if an address is verified by Google, and if the buyer information is completed. Before fulfillment can take place, addresses must be geocoded and the customer details completed, ensuring that the order is legitimate and that the delivery can take place.
6. Has good customer service
We understand that great customer service is important to our merchants, as well as their buyers. Bob Go places a massive focus on building a strong operations team and support system to assist our merchants with any queries they may have. Alongside our standard support options (+27 (0) 12 940 1060 and support@bobgo.co.za), we offer a comprehensive help centre with a live chat to assist our merchants quickly and easily.
At Bob Go, we're striving to provide smart solutions to ecommerce merchants, and our focus is on releasing new features and exciting updates on a regular basis to improve your shipping experience and tick all of your boxes!
Trust in Bob Go to provide the smart solutions you need for your ecommerce store, and stay ahead of the game with our consistent updates and new features.