If you have that one dream to build a business that has something to offer to everyone, then launching a Shopify store is the first step in that direction. Shopify, as a platform, helps you cater to your potential customer base, irrespective of the scale of business and geographical location. Shopify creates a level-playing field by arming you with a bunch of powerful tools and apps that help your store achieve its true potential. Shopify provides a bunch of apps to make your customer's experience memorable, giving them incentives to always come back for more.
Shopify apps have been developed to help you extend the scale of your operations, and they cater to a variety of functionalities. There are a number of Shopify apps that contribute individually and as a package to strengthen your brand. So, here's a list of 10 Shopify apps that will give you a sure-shot chance at being a customer's favorite for a long time.
---
1. Sales Pop Master ‑ Countdown by Autoketing
Sales Pop Master is a fun app that keeps shoppers invested in your store by using innovation and customization to meet the requirements of the average customer. The app takes the challenge of low conversion by increasing add-to-cart instances and boosting checkout rates for eCommerce websites.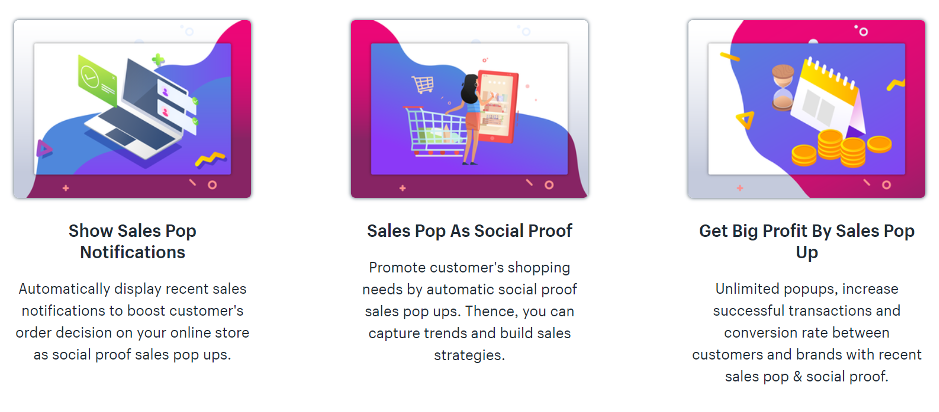 The app offers novel features such as a Coupon Code Wheel that keeps the customer hooked to your store. It also turns your customer into possible brand ambassadors, thereby building a larger, and more loyal customer base. It also keeps customers aware of the items that are soon to run out by using features such as the Countdown Stock. The countdown cart is another feature that pushes customers to make a quick purchase while increasing sales at your store.
2. uAfrica Shipping & Multichannel by uAfrica Technologies (Pty) Ltd
The uAfrica app automatically synchronizes the Shopify store with your orders, thereby helping you generate e-shipping labels in one go. You will also receive quotes from couriers, be able to select the couriers, print the shipping labels and request collection across one simple interface. Customers will also get automatic updates by email on the status of their orders with online tracking in real-time.

uAfrica multichannel also supports custom shipping zones and allows shipping rates to be set down to a province or state level, depending on the carrier being used. It also enables automated tracking for shipments with over 450 couriers around the world. All you have to do is select the carrier and enter the tracking number and your buyer will receive automatic notifications whenever the shipping status changes.
3. Re:amaze Live Chat & Helpdesk by Re:amaze
Re:amaze is the perfect link between you and the customer. It reduces customer service time by 40%. It has features such as helpdesk, live chat, chatbot, and FAQ help center platform designed exclusively for eCommerce platforms. The app's customer service teams can manage email, and social media apps such as Facebook, Messenger, Twitter and Instagram.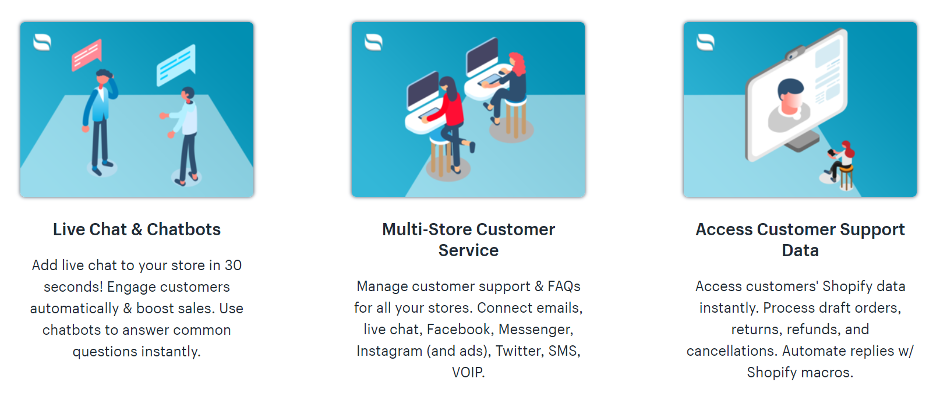 Re:amaze also allows you to create draft orders, process refunds, cancellation and update orders. The native integration with Shopify allows you to access order data in real-time, track browsing activity, share your store screen in real-time and insert product links from your inventory. The app can also reduce cart abandonment, and increase customer loyalty through automation. Using the app, you can also create automated engagement campaigns, called Cues. Cues will allow you to specify the message, duration of message, the sender, and add call-to-action buttons.
4. Google Customer Reviews by AdNabu
Customer is king and what they feel about your product is the biggest marketing tool you can use. According to reports, 92% of B2B buyers are more likely to purchase after reading a trusted review. If you want to build a loyal customer base, it is important to build a database of genuine trustworthy reviews. This is where Google Customer Review helps you get authentic reviews of your products. The Google Customer Reviews app helps you understand how your products are being received and accepted by people.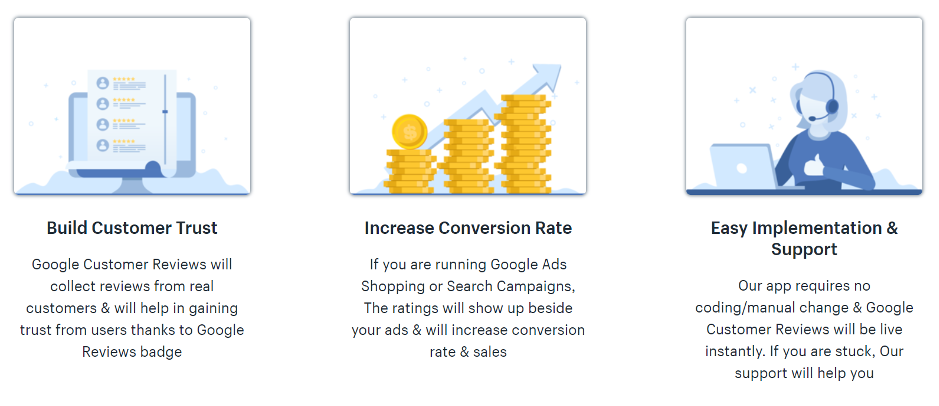 You can also arrange for your ratings to show up beside your ads, to increase your sales further. The app helps you view the Google Reviews badge and collect ratings from your customers on your Shopify store. Depending on how well you are doing, you can also position the Google Reviews badge on your page according to your preference.
5. Loox ‑ Photo Reviews by Loox
The future is visual. And customers trust product reviews and photos more than a regular marketing campaign. The Loox app easily collects photo reviews in order to increase sales. It also enhances the strength of the text through product reviews by showing customers reviews of products through pictures. The most important feature of the app is the one-click setup that makes it easy to install and use. It allows you to import product reviews from any source that you think is aligned with your brand and product.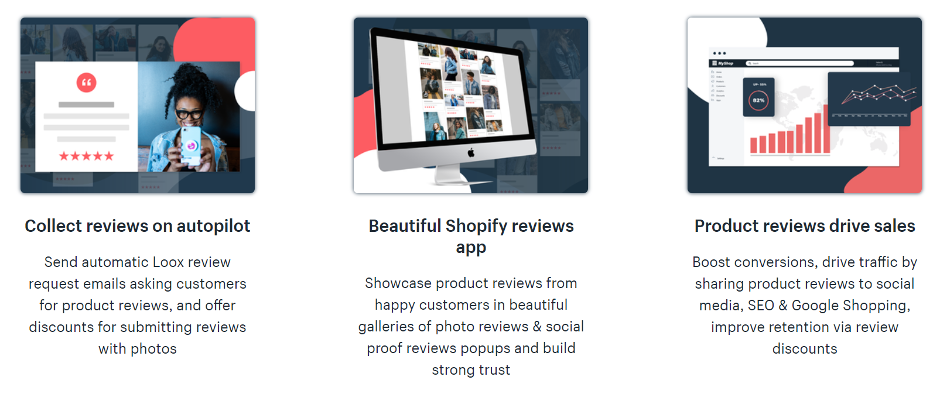 It also provides automatic email review requests and reminders, allowing you to focus on other things while reviews flow in. The app lets you decide the appearance of the reviews and helps you choose which reviews need to be published. In addition to this, the app also provides a public response to publish reviews. The Loox pop-up allows relevant product reviews to feature while visitors are browsing your website.
6. Privy ‑ Exit Pop Ups & Email by Privy
Privy is an app that extends your marketing wing in order to drive more sales and bring back old customers. It offers a free suite of email and marketing tools that help you extend your email list from your Shopify Store. These features are all provided to you without you having to have any prior coding knowledge or skills.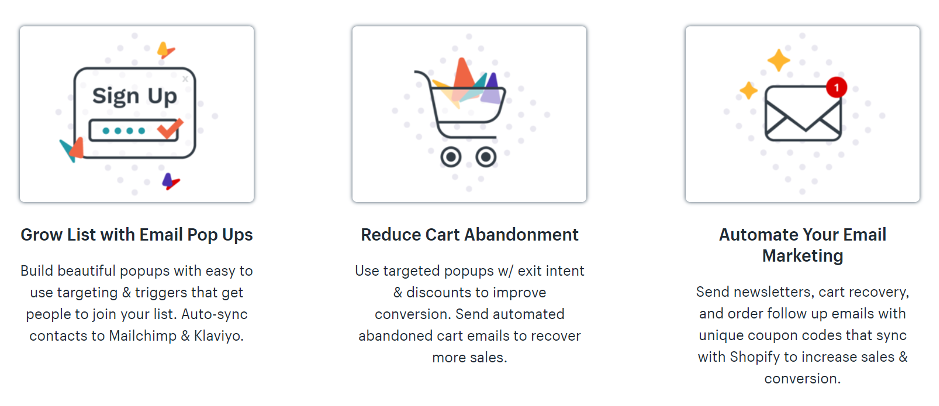 The app also sends newsletters, abandoned emails as well as reminder emails. The customisable interface includes email popup banners, announcement bars and embedded forms. It also uses advanced targeting algorithms to deliver the right message to the right visitor based on various customer demographic values.
7. Free Shipping Bar by Hextom
The one thing that's better than hassle-free shipping is hassle-free shipping for free. According to a recent study, about 88% of customers are more likely to shop at a site if they are promised free shipping. The app displays free shipping offers that attract customers to your store. The free shipping bars have quirky features such as templates that congratulate customers on availing free shipping.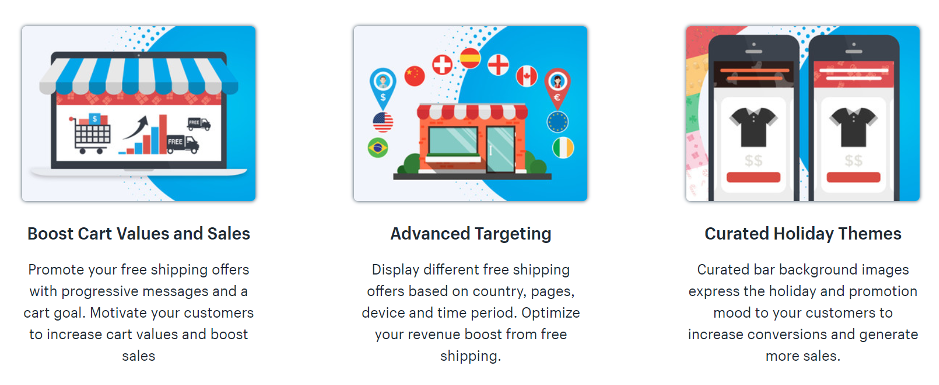 It also uses the feature of geotargeting to set different banners to display to visitors from different countries. The app is flexible so that you can add the free shipping bar to selected pages to streamline attention. It also provides the options to add emojis in the banners to make the banner look more interactive. The bar can also be configured to be displayed at any particular position on your website.
8. Google Ads with Smart Shopping by AdNabu
Managing eCommerce campaigns can be quite a daunting task with the innumerable products that are available in the market. With the changing nature of keywords and other search engine optimization elements, the task to create relevant ad campaigns is a tough one to crack. Google Ads helps you create a smart advertising campaign that ensures that your product and your store are visible to potential customers.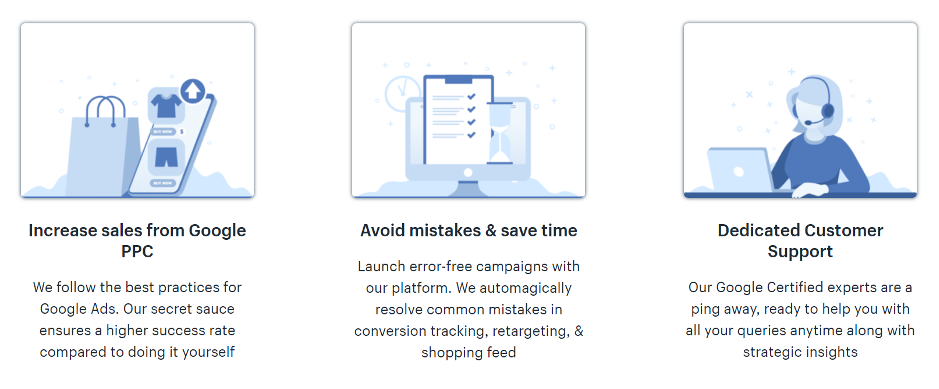 The creation of an ad campaign using this Google Ads with Smart Shopping app helps you segregate various products based on brand category and product type. Google Ads also allows you to avoid duplicate keywords, create negative keywords to avoid internal competition and automatically discover negative keywords. The app helps to launch error-free campaigns and also avoid common mistakes in tracking, retargeting and shopping feed data. A bunch of Google certified experts are also present to provide you with quick strategic insights to make a campaign more effective.
9. SEO Booster ‑ SEO Marketing by Secomapp
Search Engine Optimization is one of the primary tools of marketing that ensures that your store has the maximum visibility with potential customers. The SEO booster must have an app that structures data in a more search-engine-friendly way.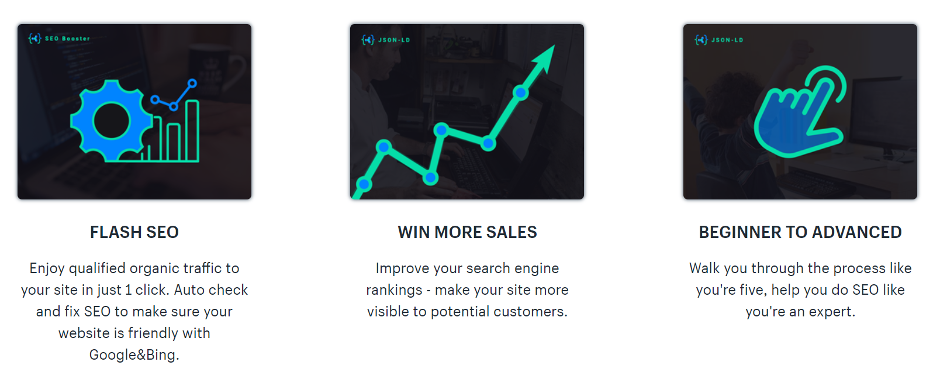 The app helps you automatically update your page for your images and redirects invalid links on a daily basis. It also keeps your personalized keywords under optimized control to drive traffic to your store by adapting the trending keywords for a selected geographical area.
10. EU Cookie Bar ‑ Cookie GDPR by Booster
EU Cookie Bar is an app that will give your customers a banner that informs them that your store involves the use of cookies. Once the customer agrees to these cookie terms, the banner gets hidden from that customer's screen. This improves transparency within the system and helps create a level of trust between customers and sellers.

---
Conclusion
Shopify provides a plethora of options to extend the functionalities of your store. A bunch of free and nominally priced apps is available at your service to unlock your true potential as an entrepreneur. So, head to Shopify and choose the apps that make sure that the customers are always at your doorstep. From marketing apps to the ones that can optimize your store and boost your SEO, your options are endless.
Additional resources on Shopify
Guest post by
AdNabu helps improve sales in Google Ads for eCommerce companies. If you are running search, shopping or display campaigns in Google Ads, Their software will be able to increase your sales. Sign up today for a 14-day free trial from here.

Feature Image is by Shopify for the Shopify App Store.