Bob Go is excited to announce significant changes to its plan structures, subscription charges, and shipping rates. These changes aim to reintroduce plan-specific features and create a more streamlined, simplified plan structure. The primary objective is to provide competitive rates for low-tier plans while offering exclusive features for top-tier plans. In this blog post, we will delve into the details of these changes and how they will benefit you.
Plan updates
The plans we support will no longer enforce shipment limits, providing you with more flexibility in managing your shipments—marking the most significant change to the plan structure.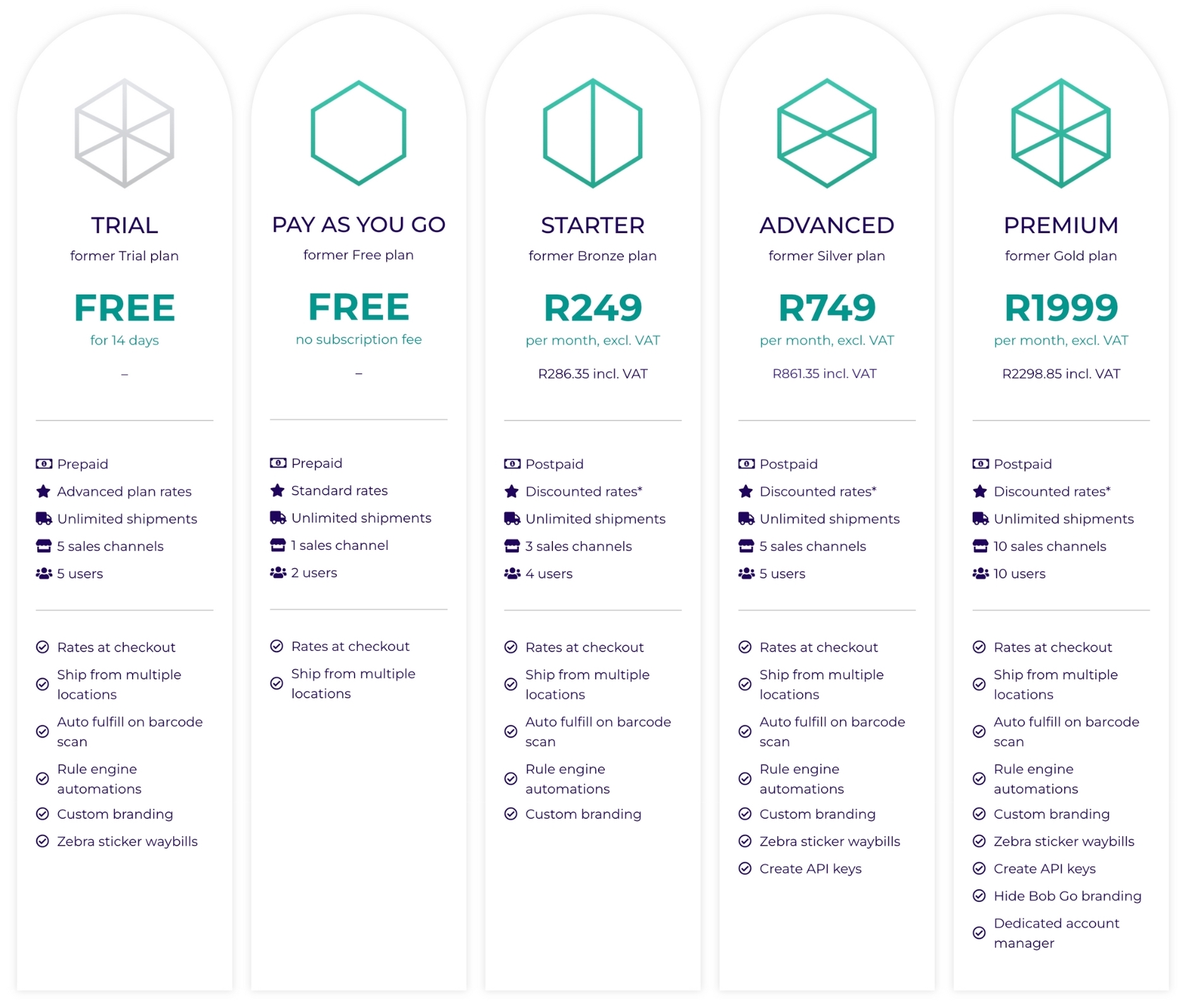 *The better the plan, the more discount you'll receive!
Let's dive into the specific plan changes:
Trial: The Trial plan is the default plan for new accounts. It offers unique features that allow merchants to experiment with the functionality of the platform. The subscription cost of this plan remains free for the duration of the trial period [14 days].
Pay as you go: Previously known as the Free plan, this option is perfect for smaller businesses. This plan has no subscription cost and now allows the installation of a sales channel.
Starter: This plan replaces the former Bronze plan with slightly reduced rates. The subscription cost is R249 per month (excluding VAT).
Advanced: The Advanced plan replaces the Silver plan, offering enhanced features at R749 per month (excluding VAT).
Premium: This is our top-tier plan for larger businesses, starting from R1,999 per month (excluding VAT). Features include dedicated support and the option to remove Bob Go branding from waybills and tracking emails.
Account configuration
The introduction of the new rules and configurations for each account has eliminated the need for custom plans. This allows us to create a more simplified plan structure for all Bob Go merchants.
When an account upgrades or downgrades its plan, it will reset to the features and costs of the newly selected plan. When downgrading to a lower plan with too many users or channels, users will receive a modal prompting them to remove excess users or channels. Certain features may also be disabled due to the downgrade.
Implementation and migration
We will migrate accounts currently on a custom plan to a new plan that closely resembles their current cost and feature set. If you choose to upgrade or downgrade, the features and subscription cost will be adjusted according to the selected plan in the new subscription model. All other plans will be automatically migrated to their corresponding plans in the new subscription model.
We understand that change can be both exciting and challenging, and we want to assure you that we're here to make this transition as seamless as possible. These plan changes aim to provide more value, flexibility, and cost savings for our users. We are excited to roll out these updates, and we look forward to continuing to serve your shipping needs with improved features and pricing.