Shipping can often be an extremely difficult endeavour to manage; a fact especially relevant to businesses in South Africa today. Shipping costs for businesses can be sky-high, which not only affects the bottom-line, but ultimately costs the company time and effort as well. In this article we will look at the best ways to control and manage your shipping costs.
Reduce and Manage your Parcel Weight and Dimensions.
Couriers in South Africa take into consideration both the weight and dimensions (by calculating the volumetric weight) when calculating shipping costs and charge on the higher of the two. This is why it is crucial to use packaging that is exactly the right size for the item(s) you are shipping. If you use a box that is too big for the item you are shipping, you will end up paying more than you should because of the space the package takes up. Larger boxes lead to a higher volumetric weight, which will in turn lead to higher shipping costs.

If you sell small, non-fragile products like clothes, consider shipping your parcels in plastic courier sleeves, which can be far more cost-effective than boxes. The dimensions of the parcel are smaller, which can save you on shipping costs, and will take up less room on a delivery truck. Using them also requires less packing materials like tape and bubble wrap to save even more costs.
Recycle and Reuse Packaging
Keep the boxes and packing materials you receive and reuse them for your own packages. Remember to remove the old shipping labels completely before adding your own to avoid confusion, speed up delivery and help you avoid any unnecessary delays. Saving on packaging is a great eco-friendly shipping solution! Another method of lowering shipping and packaging costs is to use free packaging and shipping supplies from the courier. Most couriers offer free plastic sleeves and other packaging materials to their customers, which can help you to save on shipping costs – as well as ensure that you keep within standard courier package dimensions.
Decrease Shipping Distances
If you realise that the majority of the customers you are shipping to are located across the country, it may be time to consider moving your stock into a fulfillment centre (or dark store!) to be closer to your customer base – and thus, decrease the distance that parcels need to be moved. Shipping costs are not only dependent on the parcel weight and dimensions, but also the collection and delivery address of the order. By reducing the distance between the collection and delivery address, you decrease this cost automatically.

This has become the solution for many small online businesses across South Africa. By shipping orders out from two different fulfillment centres (perhaps located in Johannesburg and Cape Town, nearest to the two largest customer bases), shipping distances have been decreased and shipping costs have thus also declined.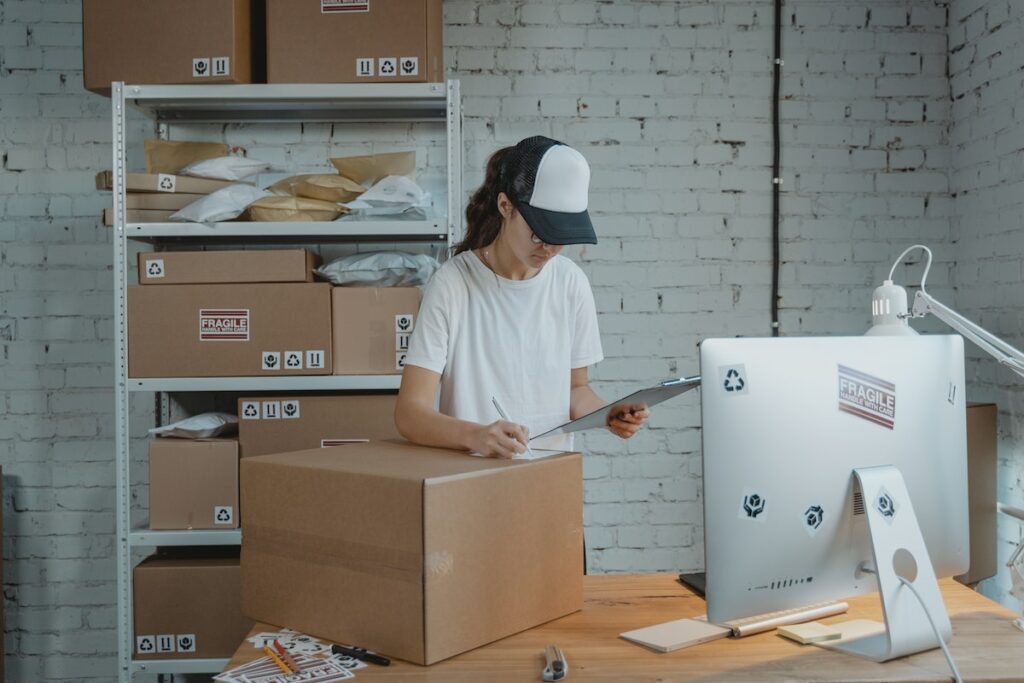 Lighten your Packing Materials
Although you need to protect your fragile and breakable items in transit with protective material, it is important to look into the lightest protective material possible – otherwise this could add to the overall weight of the parcel. Look for lightweight protective materials like air pillows and bubble wrap; the less your package weighs, the less it will cost to ship.

If you do ship fragile items, you will very likely go through a lot of protective packaging. Buying all of these items in bulk could save you a lot of money, if you take advantage of volume discounts to reduce your final costs.
Do your Calculations Upfront
Firstly, it is important to know your numbers and do your calculations before you start shipping. Make sure you don't lose money (or customers) by calculating all your shipping costs before you charge your customers at checkout. There are many other charges that could apply to your shipments, including surcharges. If the shipping cost is on your customer, make sure this is included in their overall checkout payment or you'll be forced to absorb them yourself.
Make the Move to Tech
The solution to controlling costs can actually be quite simple: an order management software or courier aggregator. With a software, you can easily manage your delivery costs because you can set the cost per item, adjust the rates you charge at checkout and communicate to your customers how much it will be, depending on the weight and number of packages. In other words, your customers will know your rates before they complete the purchase at checkout.

uAfrica allows you to do all of that. It allows you to determine what rates you would like to charge your customers at checkout, which can be either fixed rates or real-time rates. uAfrica also gives you access to rate estimates from five different courier companies that you can ship with, which helps to keep costs down or at least covered by the rates you have charged your customer.
Ultimately, controlling shipping rates is a continuous exercise that takes a lot of trial and error, adjustments and readjustments. It becomes a delicate balance; it should never be a way to make profit, but you should ensure that you also cover all of your costs without dipping into the bottom line.